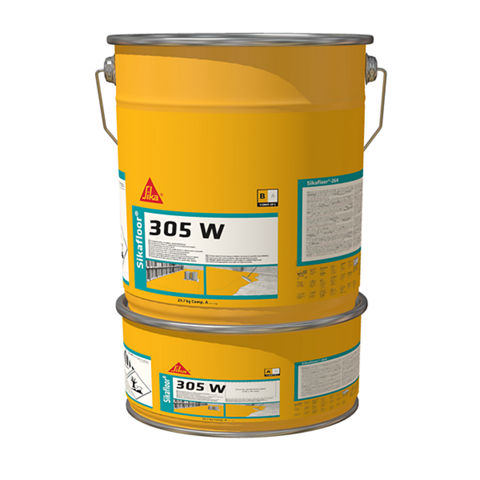 2-Componenten, gekleurde, matte polyurethaan seallaag, onderdeel van de
Sika® ComfortFloor® productrange
Sikafloor®-305 W is een 2-componenten, watergedragen, lage VOS, gekleurde matte verzegeling op polyurethaanbasis.
Watergedragen
Vrijwel reukloos
Goede UV-bestendigheid, niet vergelend
Eenvoudig reinigbaar
Gebruik
Matte verzegeling voor de Sika ComfortFloor® systemen, voor Sikafloor® polyurethanen en voor het Sikafloor® Multidur epoxy assortiment.
Voordelen
Watergedragen
Vrijwel reukloos
Goede UV-bestendigheid, niet vergelend
Eenvoudig reinigbaar
Verpakking
| | |
| --- | --- |
| Component A | 8,5 kg |
| Component B | 1,5 kg |
| Component A+B | 10 kg sets |
Kleur
Sikafloor®-305 W is na uitharding mat. Verkrijgbaar in vele kleuren.
Wees ervan bewust dat de kleur van Sikafloor® basislaag ondersteunend dient te zijn aan de kleur van Sikafloor®-305 W. Bij lichte, moeilijk dekkende kleuren kan het nodig zijn Sikafloor®-305 W in meer dan 2 lagen aan te brengen. Indien in één vloerveld meerdere kleuren  Sikafloor®-305 W op één uniform gekleurde onderlaag worden gewenst, dienen proeven vooraf inzicht te geven over de toepassingsmogelijkheid. Doordat krasjes in donkere kleurlagen (zwart, blauw, paars) meer opvallen, is het verstandig deze kleuren te  beschermen met een extra transparante laag Sikafloor®-304 W.
Product details
Duurzaamheid, Certificaten en Goedkeuringen
MILIEU
VOS emissie getest volgens de AgBB-regeling en de richtlijnen van de DIBt (AgBB - Comite voor gezondheids-gerelateerde Evaluatie van Building Products, DIBt - Duitse Instituut voor Bouwtechniek). Eurofins Rapportnr. 769855D.
TESTRAPPORTEN / CERTIFICATEN
Kunstharsgebonden vloer materiaal volgens EN 13813:2002,  DoP en voorzien van CE-markering.
Coating voor betonbescherming volgens de eisen van EN 1504-2:2004,  DoP 0208010400500000031041, gecertificeerde instantie voor fabrieksproductiecontrole nr. 0620, en voorzien van CE-markering.
Brandclassificatie volgens EN 13501-1, Test rapport 08-198, 08-199 en CR-13- 167/1, Universiteit Gent
Product informatie
Houdbaarheid
Component A
6 maanden vanaf de
productiedatum

Component B

12 maanden vanaf de
productiedatum
Opslagcondities
Het product dient in de originele-, verzegelde, ongeopende en onbeschadigde verpakking, droog te worden opgeslagen tussen +5°C en +30°C.
Soortelijk gewicht
| | |
| --- | --- |
| Component A | ~ 1,33 kg/l |
| Component B | ~ 1,13 kg/l |
| Mix A+B | ~ 1,18 kg/l |
Alle waarden bij +23°C
Technische informatie
Glansgraad
| | |
| --- | --- |
| Hoek | Waarde |
| 85° | < 50 |
| 60° | < 10 |
Slijtvastheid
| | |
| --- | --- |
| < 1000 mg | (H22/1000/1000) |
Hechttreksterkte
| | |
| --- | --- |
| > 1,5 N/mm2 (betonbreuk) | (EN 13892-8) |
Chemische resistentie
Bestand tegen veel chemicaliën. Vraag naar de gedetailleerde chemische bestendigheidslijst.
Applicatie
Applicatie informatie
Mengverhouding
Component A : Component B = 85 : 15 (gewichtsdelen)
Omgevingstemperatuur
Minimaal +10°C, maximaal +30°C
Relatieve luchtvochtigheid
Maximaal 75% R.L.V.
Tijdens de uitharding mag de vochtigheid niet de 75% overschrijden. Draag tijdens de uitharding zorg voor voldoende ventilatie van verse lucht om het overtollige vocht uit het uithardende product te verwijderen.
Dauwpunt
Pas op voor condensatie!
De temperatuur van de ondergrond en van het niet uitgehard materiaal dient minimaal 3°C hoger te zijn dan het dauwpunt om het risico van condensvorming of wit uitslaan van het product te verminderen.
Ondergrondtemperatuur
Minimaal +10°C, maximaal +30°C
Pot-life
| | |
| --- | --- |
| Temperatuur | Tijd |
| +10°C | ~ 80 minuten |
| +20°C | ~ 60 minuten |
| +30°C | ~ 30 minuten |
Waarschuwing: einde van de potlife is niet zichtbaar.
Uithardingstijd
Wachttijd tot overlagen van Sikafloor®-305 W:
Ondergrond
temperatuur

Minimaal

Maximaal

+10°C

24 uur

4 dagen

+20°C

16 uur

3 dagen

+30°C
12 uur
2 dagen
Op basis van een R.L.V. van maximaal 70% en goede ventilatie. Tijden zijn bij benadering en worden beïnvloed bij door veranderende
omgevingscondities, met name temperatuur en relatieve luchtvochtigheid.
Verwerkt product belastbaar na
Temperatuur

Beloopbaar

Licht belastbaar

Volledig
uitgehard

+10°C

~ 30 uur

~ 48 uur

~ 6 dagen

+20°C

~ 16 uur

~ 24 uur

~ 4 dagen

+30°C

~ 12 uur

~ 18 uur

~ 3 dagen
Opmerking: tijden zijn bij benadering en worden beïnvloed bij door veranderende omgevingscondities.
Gebruik
Verbruik
Aan Sikafloor®-305 W 5 - 10% schoon leidingwater toevoegen.
Verbruik ~ 0,13 - 0,15 kg/m²/laag
Alle waarden zijn theoretisch en zijn afhankelijk van de zuiging, ruwheid en vlakheid van de ondergrond en materiaalverlies enz. Een lager verbruik kan leiden tot rolaanzetten, glansverschillen en onregelmatigheden in het oppervlak, een hoger verbruik resulteert in het vasthouden van water en een zwakkere filmlaag.
Bij gebruik met zware slijtbelasting, bijvoorbeeld bureaustoelen met zwenkwielen, is een tweede laag Sikafloor®-305 W ten zeerste aan te raden. Een tweede laag verhoogt namelijk de mechanische bestendigheid van het systeem met in het bijzonder de resistentie tegen de belasting van bureaustoelen.
Stappen applicatie
MENGEN
Allereerst component A goed oproeren, vervolgens component B volledig toevoegen en gedurende 3 minuten mengen tot een homogeen mengsel. Hierna aan de volledige gemengde set A + B, 5 - 10 % water toevoegen en aansluitend 1 minuut mengen. Wacht 1 minuut en meng dan nogmaals 1 minuut. De toevoeging van water dient bij elke set gelijk te zijn, anders kunnen verschillen in glansgraad en textuur optreden.
Check met behulp van een spatel of in het mengsel geen klontjes of opeenhopingen aanwezig zijn. Om zeker te zijn van een volledige menging het gemengde materiaal overgieten in een schone verfemmer en nogmaals kort mengen tot een consistent mengsel.
Te snelle en te lange menging moet vermeden worden om luchtinsluitingen te minimaliseren.

Menggereedschap:
Sikafloor®-305 W moet grondig gemengd worden met een elektrische menger op lage snelheid (300 - 400 r.p.m.) of andere geschikte mengapparatuur.
VERWERKING
Controleer voor het aanbrengen R.L.V. en dauwpunt.
Gebruik 25 cm brede nylon of perlon roller met een vacht van max. 12 mm om de coating op te zetten en rol na met een 50 cm brede nylon of perlon vachtroller met een vacht van max. 12 mm. Verdeel de ruimte, welke gecoat moet worden, in delen voor het aantal sets die benodigd zijn, om het verbruik onder controle te houden en te weten hoe ver met elke set gedaan moet worden. Giet een kleine hoeveelheid gemengd materiaal in een emmer en besnijd de randen met een kwast en een kleine roller. Werk niet te ver vooruit aan het normale rollen (max. 10 minuten), om zichtbare aanzetten te voorkomen of tot een minimum te beperken. Benat rollers in de verfemmer en breng de coating dwars op de richting, waarin je werkt, aan in banen van ca. 1,35 m, zonder de vorige baan te overlappen, met een verbruik van ca. 130 - 150 g/m². Rol direct na, kruislings op de aangebracht richting heen en terug, zonder veel druk met een voorbevochtigde brede roller. Til aan het einde van de laatste heengaan de roller in de rolbeweging op, waarbij de vorige baan ca. 10 cm wordt overlapt. Let op dat er geen glinsterende glanzende plekjes achterblijven, veroorzaakt door opname van de coating door de roller. Poreuze plekken waar de top van de onderlaag "open" is, bijvoorbeeld als gevolg van schuren na reparatie dienen vooraf met coating te worden voorgezet. Werk zo snel als mogelijk, maar zeker binnen de potlife, welke afhankelijk is van de temperatuur (30 min. bij 30°C - 40 min. bij 10°C). Let op!: Het einde van de potlife is niet merkbaar.
REINIGEN VAN GEREEDSCHAP
Reinig alle gereedschappen en verwerkingsapparatuur onmiddellijk na gebruik met water. Uitgehard en/of uithardend materiaal kan alleen mechanisch worden verwijderd.