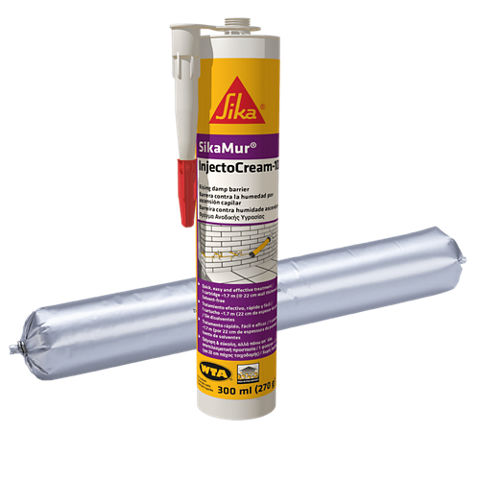 SikaMur® InjectoCream-100
Injectiegel op basis van silaan voor de behandeling van optrekkend vocht
SikaMur® InjectoCream-100 is een concept voor de behandeling van optrekkend vocht. SikaMur® InjectoCream-100 is een waterafstotende gel, verpakt in kokers van 300 ml en worsten van 600 ml. Het wordt geïnjecteerd door middel van een kitpistool in een reeks geboorde gaten in de voegen van het metselwerk – er is geen speciale injectiepomp noodzakelijk. Na injectie, verspreidt SikaMur® InjectoCream-100 zich in de vochtige muur om een waterafstotend scherm (Damp-Proof Course, DPC) te vormen en blokkeert optrekkend vocht.
SikaMur® InjectoCream-100 voldoet aan de eisen van WTA Guideline 4-4-04/D "Behandeling van optrekkend vocht in metselwerkt".
Eenvoudig te gebruiken (laag risico van verwerkingsfouten, minder afhankelijk van de gebruikershandigheid)
1-Component, kant-en-klaar
Snelle toepassing (geen ''dubbele boring'', geen wachttijd tot de vloeistof onder druk of door zwaartekracht indringt)
Het is niet nodig om vooraf de boorgaten rondom waterdicht te maken (zoals bij druk-injectiesystemen)
Snelle injectie (geen wachttijd om het materiaal te verpompen vergeleken met druksystemen en heeft ook geen navulling nodig zoals bij injectiesystemen met behulp van zwaartekracht)
Gelijkmatig materiaalverbruik (eenvoudig de benodigde hoeveelheid product te berekenen)
Vereist geen dure, speciale pomp
Verlies en vervuiling niet zichtbaar (geen vloeistof dat door scheidingswanden,holtes of leidingen vloeit)
Geconcentreerde formule met meer dan 80% actieve bestanddelen (brengt eenlagere hoeveelheid inactieve bestanddelen in de muur – dit geeft een veel effectiever resultaat in vergelijking met producten met een lagere concentratie)
Laag risico, watergedragen – niet-bijtend, onbrandbaar – niet geïnjecteerd onder druk
Zeer weinig verlies
Weinig afval
Geen risico van toename van uitbloeiingen (in vergelijking met de behandelingen op basis van siliconen).